iESLab successfully appraised at CMMI maturity level 5
Author:admin Source: Date:2018-03-09 Hits:0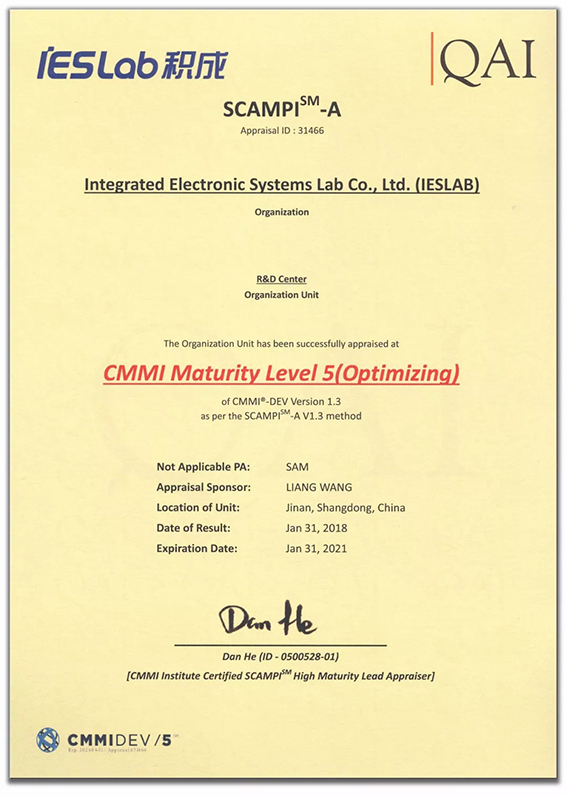 Recently, Integrated Electronic Systems Lab Co., Ltd. has successfully been appraised at CMMI-ML5, the highest level of maturity. The passing of the appraisal represents that iESLab's product R&D capability and management level have been up to the highest international standard and entered the best practice phase at optimizing management level.
Over the past years, iESLab has achieved remarkable results by actively making planning for the new generation of power automation area and developing related new products. As a result, its advantageous products have been optimized and upgraded, its new products have kept appearing, and its R&D results have forcefully supported the improvement in its performance and guaranteed its demand for long-term development. In addition, iESLab's R&D management has become leaner. The company, in accordance with the standards for CMMI high maturity system, has further optimized and upgraded its R&D management system and practiced foreseeable quantitative management model. The passing of the appraisal for CMMI-ML5 is a major milestone for its product R&D. This also marks a new starting point. iESLab will repay its clients with better products and services.
The passing of CMMI-ML5 appraisal marks more than obtaining a qualification. It represents a new stage and level of iESLab's R&D management. Under the system framework of highly maturity, iESLab's R&D management will surely become highly mature and will provide guarantee for its brilliant performance. 
IESLab won the honorary title of "The World Technology Lead
On November 12, the award ceremony of "The World Technology Leader" selected by DDW was held in the beautiful spring city Jinan. I...
Detail >
Related