IESLab won the honorary title of "The World Technology Lead
Author:admin Source: Date:2019-11-20 Hits:0
On November 12, the award ceremony of "The World Technology Leader" selected by DDW was held in the beautiful spring city Jinan. IESLab received this award. The award ceremony is also one of a series of activities of "SINO-German SME Cooperation & Communication Conference".
iESLab, as an innovative enterprise incubated in Jinan Innovation Zone, was born in the 1980s under the wave of China's reform and opening up, and established by four professors of Shandong University. At that time, in response to the call of "science and technology should serve the national economic construction", the entrepreneurial team developed the first set of power dispatching system based on general microcomputer for Jinan Power Supply Bureau in the way of "Weekend Engineer", which filled in the industry gap and realized a qualitative leap in power dispatching automation technology. At present, most of the main leaders of iESLab are teachers from Shandong University. The background of universities also cultivates the genes of learning and innovation of the company. Technical innovation is deeply rooted in every stage of the development of the company.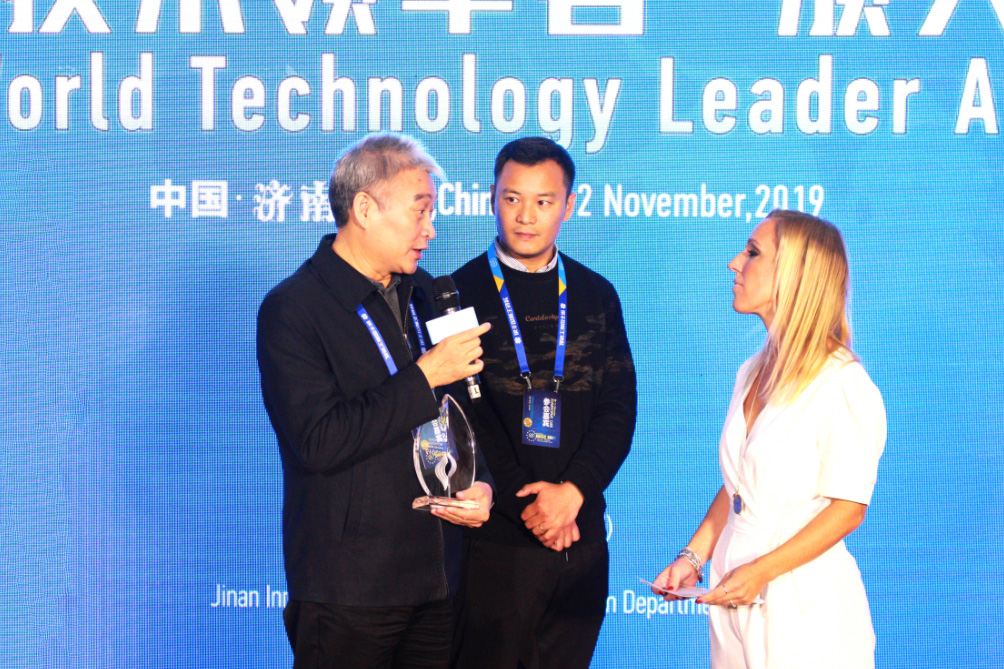 Yan Zhonghua, General Manager of iESLab, interviewed by DDW
The innovation practice makes the teachers in ivory tower realize that knowledge can be transformed into powerful energy of economy, so they always enjoy it on the road of innovation. For more than 30 years, they have been keeping up with the pace of cutting-edge technology and technological development, working hard in the field of power system automation, and expanding the successful experience accumulated in the power system to water, gas, heat, rail transit, intelligent energy and other industries or fields, making iESLab one of the core solution suppliers for the basic informatization application of China's smart cities.
Photo of Yan Zhonghua, General Manager of iESLab, and Michael Oelmann, President of DDW
In recent years, DDW has launched an innovative award - "The World Technology Leader", which is set up to encourage and support advanced technology development projects and excellent innovative projects. The award ceremony of "The World Technology Leader" will be held in different parts of the world every year, with the aim to respect and encourage new ideas, new technologies and new entrepreneurial models. In previous years, the award-winning enterprises include Microsoft, Germany CHT Group, VOSS, Phoenix Contact Group, Germany GROHE and many other well-known enterprises.
iESLab in the European Utility Week
As the first time of combination between Power-Gen Europe and European Utility Week, the PGE&EUW 2019 was grandly open in 12th Nov, 2019...
Detail >
Related