iESLab, first sight in European Utility Week
Author:Overseas Department Source:iESLab Date:2017-10-23 Hits:0
European Utility Week (19th EUW), in Amsterdam from 3-5 October 2017, offered great opportunities to all professionals related with energy industry. Integrated Electronic Systems Lab Co., Ltd. (iESLab) made its wonderful debut in this exhibition.
EUW is the annual landmark event of the European energy calendar bringing together all significant forces on Smart Gird, Smart Metering and Data Management, Communication and IT Integration, Smart Water, Smart Gas, Smart Cities, IoT and etc. It is the international premier business, innovation and information platform connecting the field of Smart Grid and Smart Metering, served as a meeting point for more than 540 exhibitors and 12,000 international visitors from all levels of the utility value chain from technology giants to startups and from senior-level experts to young talent.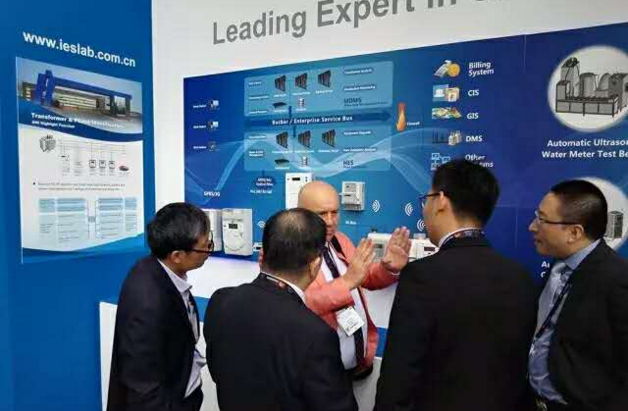 As the world leading automation and informatization one-stop solution provider, iESLab has successfully highlight its Smart Grid, which covering Advanced Metering Infrastructure (AMI), Energy Management System (EMS/SCADA), Distribution Automation System (DAS/DMS) and other relates; Smart Utilities, including Smart Water System, Smart Gas System, Ultrasonic water meter and gas meter, full production line and etc.; and also firstly promote the key function of "Transformer & Phase Identification-TPI" in the AMI system.
Through company comprehensive introduction, technique demonstration and exchange, iESLab has left deep impression to visitors from European, Middle East, America and others. They have presented huge interest on iESLab professional technique and products with the prospect of further long-term cooperation.
Through the communication and sharing with electricity utilities, water and gas companies, industry-renowned enterprises, exhibitors and other industry experts via this international activity, iESLab has fully demonstrated its brand impacts, collected the latest market information, built up solid foundation, strength and confidence to expand the overseas market.
IESLab won the honorary title of "The World Technology Lead
On November 12, the award ceremony of "The World Technology Leader" selected by DDW was held in the beautiful spring city Jinan. I...
Detail >
Related